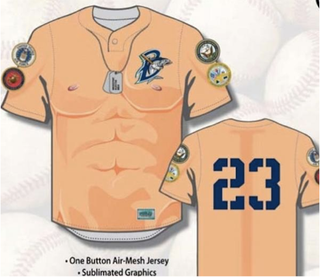 If there is one thing that the Bridgeport Bluefish baseball team has learned it's to keep their sexy man nipples away from Military Appreciation Day.
The Connecticut professional baseball team rolled out new nude colored jerseys, featuring a man's chest, dog tags, abs and nipples in appreciation of those in the armed forces. "The Bluefish Military Appreciation jersey design. Pretty original! What do you think?" General Manager Ken Shepard wrote on Twitter about the designs that were intended for the team's Aug. 30 and Sept. 11 military events.
It didn't take long for fans to gasp, grab their innocent children and chastise the team.
Shepard, who seemed to bask in the media attention, replied to one Twitter follower that he gave the "marketing team a raise."
Look out for their upcoming vulva sweatpants in honor of Breast Cancer Awareness Month.
(H/T bluefishgm)